Pictures. Pictures Are Good.



Warning - this will be an image heavy post, so it will be going under a cut (and let's hope the cut works!)

When I got back from Canada last fall, I promised pictures. I didn't deliver. And when last fall's political events started drowning me in the deepest of depressions, I promised I'd try to rise above it, at least occasionally. I haven't truly delivered on that, either.

So, before the start of another undoubtedly stressful week, I'll be giving you some pictures that make me smile. I hope you can enjoy them!

These are some pictures taken on the day of my stepdad, Rob Stirling's, birthday. His many kids, two stepkids, grandkids, at least one grandchild, and various spousal units, took him to Lunenberg, Nova Scotia, in hopes of sailing on The Bluenose, one of Canada's cultural icons. As you'll recall, we weren't able to sail, because the boat's electronics chose to misbehave, but the Bluenose's Captain was still able to present Rob with greetings from the Prime Minister, the Nova Scotian Premier, and various other People of Importance. You'll be able to figure out who Rob is; you'll see a boat load of his family; you'll also be able to ID the aging couple (including the woman with the horrible posture) as BB and I, and one would-be artistic picture of the Bluenose's mast.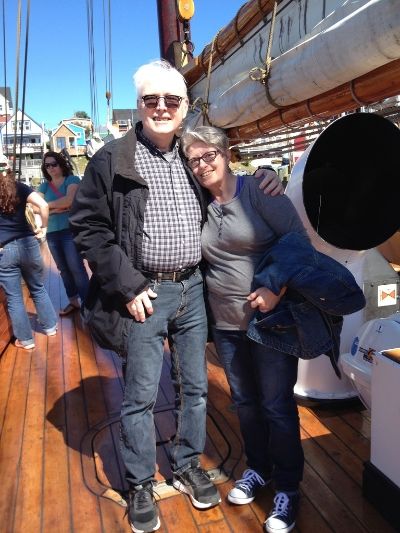 Here is an admittedly fuzzy picture of my brother Mac and Rob, wearing Chicago Cubs sweatshirts; those were my Christmas gifts to them, along with the copy of the Chicago Tribune that the two of them are holding. I was more than pleasantly surprised to hear how happy Mac was at getting his presents; I'd thought he might roll his eyes and just be polite about them, but he was genuinely excited, and said he was going to save the paper because of its historic value. I asked him to send me a picture, and he did. Cool! It's fuzzy, but it's still cool!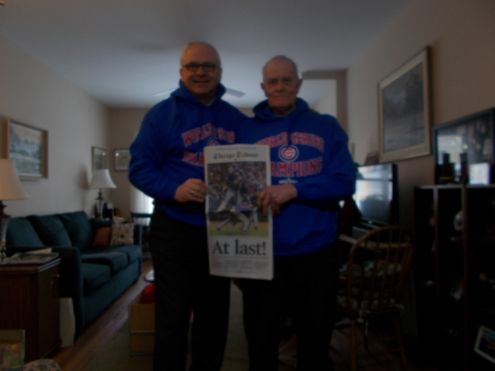 And finally, here's a picture of one of my succulents with a completely unexpected flower. The last time it flowered was two or three years ago, when I got it from my daughter of the heart. I never expected it to bloom again. So that's kind of a great omen for 2017, right?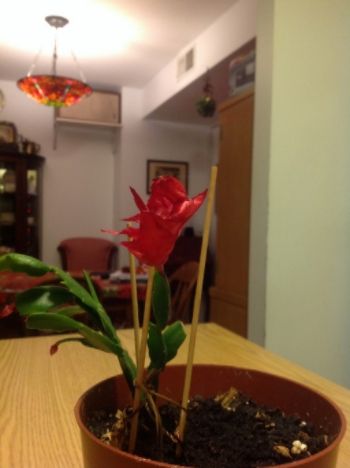 This entry was originally posted at http://kaffyr.dreamwidth.org/644897.html?mode=reply, where there are currently
comments. You can comment there or here, but prefer to read over on DW. You can comment there using open ID if you don't have a DW account.