Doctor Who 30 Day Meme


Day 01 - Your Favorite Quote
Day 02 - Your Favorite Classic Series Episode
Day 03 - Your Favorite New Series Episode


Day 04 - Your Favorite Doctor


Well, my icon rather gives it away, doesn't it? Still ...

The First Doctor was my first Doctor, and I like him right well, but he isn't My Doctor.
The Third Doctor is my favorite of the Classic Series regenerations - polite and dandified irritation hiding brilliance, barely-concealed rage at his fate, and a bedrock of kindness - but he's not My Doctor, not quite.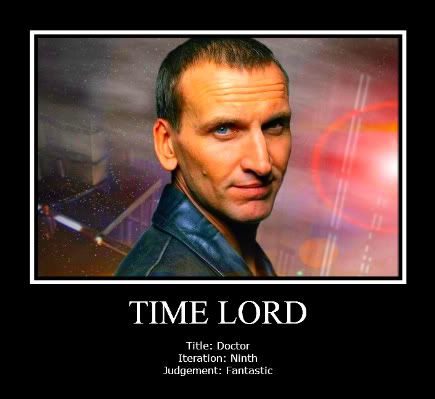 This is My Doctor. He's a lot like the Third Doctor in some ways. He, too, rages against his fate, and he, too, hides it (although his mask is a half-mad and completely dangerous grin.) He, too, has a bedrock of kindness beneath a patina of irritation. But the Dandy is burned away, in a fire lit by his own much older, much more desperate hand. He is nothing but the basics, because, ultimately, that's all one needs.

I love the Doctor, and I've liked nearly every iteration, up to and oh, so defintely including, the unbelievably marvelous Eleventh Doctor.

But this is My Doctor.